The 2022 Subaru Love Promise Community Commitment Award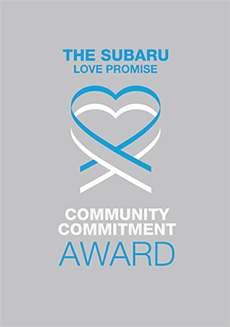 We've been nationally recognized for our dedication to our community and the Subaru Love Promise.
We're honored to receive the 2022 Subaru Love Promise Community Commitment Award. This award nationally recognizes Subaru retailers who are making the world a better place while demonstrating an outstanding commitment to supporting passions and causes in local communities. These efforts are focused in important areas such as the environment, community, health, education, and pets.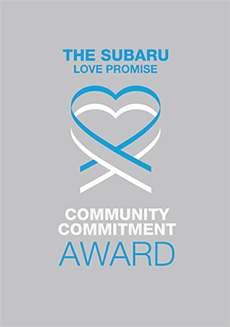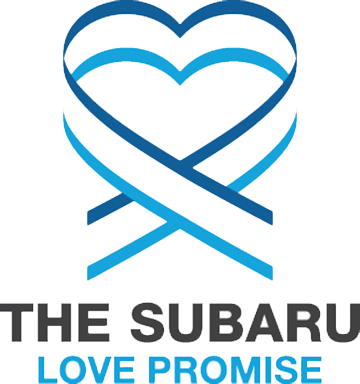 What is the Subaru Love Promise?
Subaru and our retailers believe in making the world a better place and the Subaru Love Promise is our vision of respecting all people. This is our commitment to show love and respect to our customers and to work to make a positive impact in the world.
How is RK Subaru of Vineland dedicated locally to the Love Promise?
Our Love Promise can be seen in various partnerships with local charities and non-profits. We're grateful for the opportunity, not only to be a part of our community, but to serve it as well.
Love Promise Stories from RK Subaru of Vineland
Subaru and RK Subaru of Vineland believe in making a positive impact on the communities in which we live and work. We uphold that belief through our Love Promise Community Commitment. Every month, we select inspiring stories from customers and partners from around our area who strive to support our collective commitment and feature them here
Pantera finds his furever home - Thomas K
Our Story about Pantera🐶 and his adoption: RK Subaru of Vineland works with South Jersey Regional Animal Shelter to sponsor pet adoptions🐾 on a monthly basis. Whenever we sponsor these pets, we also cover their adoption fees. We told SJRAS we'd like to sponsor an underdog for October in honor of national "Make a Dog's Day". They said they had the perfect dog for the job and introduced us to Pantera, a Labrador mix. The shelter believes he was hit by a car and never received proper care afterward, and now his back legs don't function fully. He doesn't let that stop him though! He's still very active and even loves to run! We decided to have Pantera visit the dealership and meet the staff so we could take some pictures and make his adoption promotion video. His foster mom, Tina, brought him in and we could all tell how much she genuinely cared for this special needs dog. Fast forward to this Monday 10/17. Tina visits us at the dealership and in one very exciting breath tells us she is adopting Pantera and also wants a new Subaru. We were so excited for her and happy that our sponsored pup found his furever home, we decided to throw in a pet ramp AND covered the remaining balance for a doggy wheelchair for him with their new Forester Wilderness purchase Thank you; again to Tina, her husband Patrick, and their new dog Pantera for letting us be part of their story. Welcome to the RK Subaru Family and congratulations on your new fur family and brand new Subaru!!! If you'd like to see Pantera's upcoming journey, follow Pan the paralyzed pup! There are so many more great things to come for this very special dog! #lovefindsahome #subarulovespets #rksubarulovespets #underdog #specialneedsdog #NMADD22 #MakeADogsDay #adoptapet #dogwheelchair Walkin' Pets by HandicappedPets.com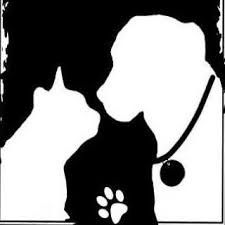 ---
RK Subaru Blanket donation to Inspira Frank and Edith Scarpa Regional Cancer Pavilion - Tom K
On Monday, June 6th, representatives from RK Subaru of Vineland delivered warmth and hope to Inspira Hospital's Frank and Edith Scarpa Regional Cancer Pavilion, where patients receive local care for cancer. Hospital staff has shared how grateful they have been for local donations to their patients for the past several years. RK Subaru of Vineland is proud to help those facing a cancer diagnosis remember that people are thinking about them and caring enough to brighten their day just a little bit. The staff also expressed how much they love being able to hand patients having a rough day a blanket and a craft kit they can use for therapeutic art. During #SubaruLovesToCare month from June 1-30, 2022, Subaru will match your online gift with The Leukemia & Lymphoma Society through LLS.org/Subaru dollar-for-dollar, up to $250,000 in total. #Subarulovestocare #Subarulovepromise #MoreThanACarCompany

---
RK Subaru Loves to Care - Tom K
RK Subaru recently completed a toiletry drive for our local homeless shelter Cumberland Family Shelter. Cumberland Family Shelter has helped provide over 22,000 nights of shelter and serves over 67,000 meals annually. These items tend to be the items needed most for building first-night stay kits. That helps runaways, foster, and other transitional populations during the first night of their stay. Learn how you can help at: https://ruraldevelopmentcorp.org/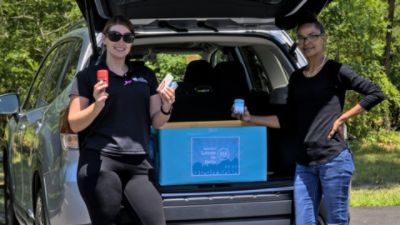 ---
An Exceptional Sales Person - Kathleen P
My husband, Greg, has Parkinson's Disease and had difficulty getting in and out of our Toyota. He and my daughter spent a day trying out passenger seats of various SUVs. They narrowed it down to two: the Subaru Forester and Hyundai Tucson. My husband and I returned to both dealers to try out each car. I was impressed with Jessica Magee's preparation, knowledge and professional manner. Because of this, I purchased the Subaru. This was the first time I purchased a car since I was in my 20s and that was quite a while ago. I love my Subaru and appreciate all Jessica's help learning what this amazing car can do!
---
RK Subaru Loves Pets Meet Harper - Thomas K
RK Subaru is partnering with South Jersey Regional Animal Shelter. To help with pet adoptions. This month we are covering the adoption fee for Harper! Harper is a Great Dane Mix, his vaccinations are up to date, and he is neutered. According to the shelter, Harper would do well in a house with other dogs but doesn't prefer cats. He is a fun and lively 3-year-old boy, with lots of personality. His adoption fees include spaying, microchipping, and up-to-date vaccinations. For more information about Harper or the Adoption process please contact https://southjerseyregionalanimalshelter.org/ #subaru #aspca #aspcacares #subaru #SubaruShareTheLove #aspcalife #sharethelove #subienation #subiedaily #subarulovers #subarulovespets #subarunation #subielife #subieflow #subiegang #subielove #subielove #subarulover #sjras #southjerseyregionalanimalshelter
---
The Best There Is! - Nicole Z
Tom Rogari my salesman, he is a business man. He's the absolute best there is. I have never met anyone group of people that were so empathetic to a single mother's situation. I was about to give up on my car search. I'd figure I would give it one last try. They say your past doesn't define you but man can it sure get in the way. 12 years after an abusive marriage, I found myself starting over and scared, not to mention banged up credit. Tom said he would treat me like family and he gave me his word. He treated me like family and he listened to me. Never once did I feel embarrassed of my current situation. Joe, Dave, the finance manager, down to the car detailer. All around class act. Even if I didn't buy a car I made friends for life. If you VALUE YOUR TIME and your MONEY. If you want to be treated with respect and dignity. If you think it's impossible for you to not only get a car but a great new car I'm telling you where to go and who to ask for. TOM ROGARI. PLEASE KNOW I have never met anyone at this dealer before my purchase and I felt like I had known them for years. Tom made such a wonderful impact.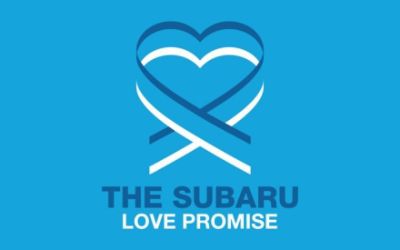 ---
RK Subaru Earth Day 2022 - Thomas K
While we celebrate Earth Day today, did you know that RK Subaru has partnered with TerraCycle to help keep K Cups and other harder to recycle items out of landfills? Have you ever wondered what happens to your K Cups once you drop them off at RK? #earthday2022 #myrksubaru #southjersey #kcup #recycling #SubaruLovesTheEarth #DontFeedTheLandfills #lovestheearth22
---
Helping Coco find her home. - Thomas K
RK Subaru recently joined the community in shock when a dog walker found Coco; in a urine-soaked duffle-bag, dumped near Gerresheimer Glass Co., near Park Ave., in Vineland. Thankfully the walker's dog noticed the bag and started to sniff around, and at that point, the dog walker had investigated when the bag was making sounds and moving. He quickly brought Coco to South Jersey Regional Animal Shelter, with who we've worked several times in the past. She was nursed back to health by South Jersey Regional Animal Shelter and adopted by a member of SJRAS's staff. RK was happy to announce that we have covered the adoption fees for Coco. While Coco has found her home, the shelter currently has 57 dogs and 128 cats looking for homes.https://southjerseyregionalanimalshelter.org/#SubaruLovesPets #Subaru #SubaruLovePromise #sjras #sjrasvineland #sjras_vineland #myrksubaru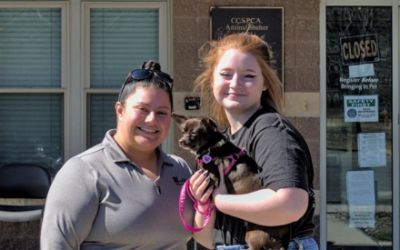 ---
RK Subaru completes its first clothing drive. - Thomas K
RK Subaru is pleased to announce that we have completed our first clothing drive from our new dealership located at 700 N Delsea Dr. in Vineland, New Jersey. We recently collected new and gently used clothing and then donated it to Cumberland Family Shelter. Cumberland Family Shelter is a 24-7 homeless shelter and food bank serving Vineland, Millville, Hamilton Township, Franklin, Folsom, Buena, Maurice River, Pittsgrove Township, and surrounding NJ communities. They have helped South Jersey, by providing 67,890 meals, and 2,816,834 lbs of food to partner agencies, offering shelter to 629 individual guests, 132 of which were children, and offering 22,630 nights of shelter in 2019. Learn more about how to help by visiting https://ruraldevelopmentcorp.org/#subarulovestohelp #clothingdrive #myrksubaru #southjersey #vineland "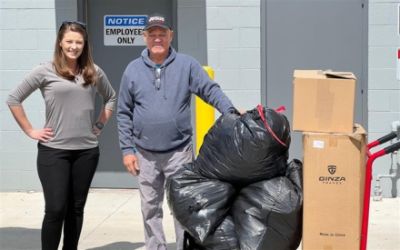 ---
Joining the Family - Douglas G
My wife and I's leases were coming up on our current vehicles. When I sat in a Forester for the first time I knew. Our price point was tight, my family was growing, and my dogs dictate our whole life. Jessica Monzo came to the rescue! Jessica heard my story, and of my growing/current family, and was determined to help me join the Subaru family. She worked so hard with Joe to make sure we got the vehicles we wanted, in the styles we wanted, at the price we wanted. Through her hard work and dedication she took the time to make this a reality! We are now proud owners of a Crosstrek and Forester! Our growing family and pups can not thank them enough. Car shopping has always been stressful, and I truly believe now because of Jessica that buying a car will never be a stressful experience again. It takes a true professional to make you feel like the decision you are making, you are doing with the utmost confidence and support. When I say we joined the Subaru family I truly believe that! Thank you Jessica and Joe and the whole RK Subaru team!
---